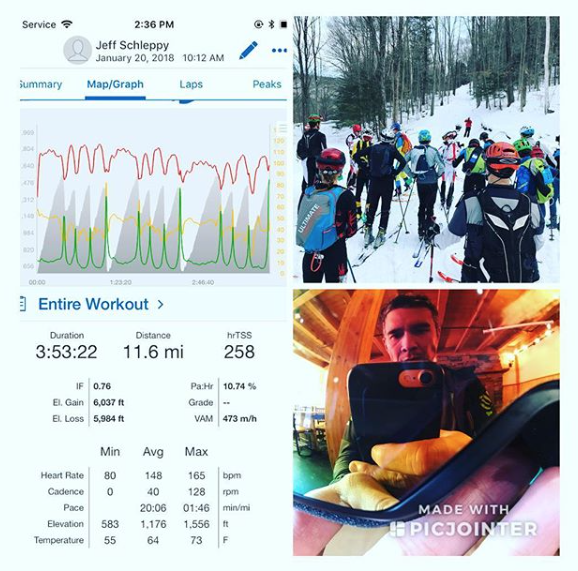 Calculated, methodical, and planning for your success is what our coaches at Tristar Athletes will do; Yet from time to time we suggest doing something completely different and even going into an event "unprepared" in such a way that it will generate the best for your training and mojo.
Tristar Athletes Northeast Brad Albus, Jeff and Bryan Schleppy vertical skiing and racing this winter.
When you are far out from your "A" priority races, whether they be a triathlon, biking, or running related event, there can be a "lull" between the action. A period of your season that you feel you are somewhat going through the motions. Its not that you don't care but the lack of having an immediate race on the horizon, major performance ahead, or goal output from a race can leave even the highly motivated athlete stuck.
Most Tristar Athletes are highly capable and fit year round. To help bridge the gap from one season and period of racing to the next we suggest finding ad hoc and random events to add to the calendar. These events are not your "Traditional" series of races but rather off the radar, smaller and shorter/funky events that are unfamiliar. These types of races keep the brain and body engaged in training and often times are short enough that the prep time for them is minimal if any.
Some events due to their odd distance or format are particularly great as there may not be a performance split, time, or tracked metric that you need to be concerned about. Its simple, you just show up, race and put down a great effort. -Cliff Scherb, TSA III Certified Coach
What are some examples you might ask? Here are a few the Tristar Athletes have recently been up to that might work for your geolocation : )
Fat tire / snow bike racing (10K to 40K distances)

Snowshoeing.

Skimo (Vertical skiing races)

Cross country skiing

Duathlons (If you are a triathlete)

Adventure races.

Local 5k's and 10K's (Holiday specific; Hot Chocolate 5miler, New Years 5K, Turkey Trot)

Stair race (Example; Empire State building run up in NYC)

Indoor Triathlon (The YMCA has many early season races)

Cyclocross racing

Mountain bike racing

Open water swim race (Destination events in Bahamas for example)

Bike time trials.

Zwift virtual racing.

When you are able to do these types of race efforts you help yourself by "blowing out the carbon" with a shorter harder effort. Most training far out from the "A" priority event of an athletes season tends to be lower in effort, heart rate, and power. Racing in this way helps our athletes thresholds, and resets the mean max curve for all performance metrics. (Mean max for heart rate, pace, power, RPE). In other words there really isn't any downside to doing them provided you don't get sick or injured and the prep time is minimal so as not to take away from the peak events of the season. You do have to watch that sport specific events don't cannibalize other ares that need work in the "off season" or base phases.
One such example is an athlete who wants to do a marathon early in the year. We see this a lot and it takes athletes down a different path. At issue is the longer runs and total run volume for instance that take away from the cycling volume needed to be successful at triathlon. Shorter distance running races are ideal and provide a better balance of biking and running which can be maintained.
Keeping an eye on your training, racing and goals - The Tristar Athletes Coaching team
Learn about the athletes and the coaches who are helping them to peak for their goals.